In Loving Memory of
Reverend Doctor Ossie R. Ellis, Sr.
On Friday, February 2, 2001, the Reverend Doctor Ossie Rooselvelt Ellis passed on from labor to reward at Craven Regional Medical Center, New Bern, North Carolina. Reverend Ellis was born on October 15, 1903 in Toledo, Ohio, to the late Sherman and Laura Ellis. He was raised in Toledo and educated in the Ohio Public Schools.
At the age of nineteen, God called him to the ministry. He answered the call in 1924 by preaching his trial sermon at St. Paul A.M.E. Zion Church, Toledo, Ohio. Reverend Ellis was ordained a Deacon in 1929 by Bishop John William Martin and was ordained an Elder in the A. M. E. Zion Church by Bishop Martin in 1934.
Reverend Ellis' first appointment was blank, without church or members. His assignment was only a city: Battle Creek, Michigan. Reverend Ellis organized a church there with thirty-five members and named it Martin Chapel A. M. E. Zion Church.
He pastored several other churches in the midwest. They included Blackwell, Flint, Michigan; Kyles Temple, Des Moines, Iowa; Metropolitan, Kansas City, Missouri; St. John, St. Louis, Missouri; St. Mary, Chicago, Illinois; and Martin Temple, St. Louis, Missouri.
He was appointed Presiding Elder of the St. Louis District around 1945. He transferred as Presiding Elder to the Memphis and Marks District, Memphis, Tennessee and served there for two and one-half years.
In 1948, Reverend Ellis transferred to the North Carolina Conference as a pastor. His first pastorate was Piney Grove, where he built the fellowship hall now named after him and remodeled the sanctuary.
He led a number of other congregations in the conference. They included St. Stephens, Morehead City; Bryant Chapel, Cove City; Union Chapel Circuit, Midway Park; Dover Circuit; Pleasant Hill Circuit; Hyman Chapel, Havelock; St. Luke, Maysville; and St. James, Rocky Run. While pastor at St. James, Reverend Ellis rebuilt the church.
In addition to preaching, he worked as a member of the International Longshoreman Association of Morehead City, NC and as a farmer in the Harlowe community.
At the North Carolina Annual Conference in 1977, Bishop Alfred G. Dunston, Jr. appointed Reverend Ellis Presiding Elder of the New Bern District.
In addition to the enormous responsibility of leading the district, he served as interim pastor at various charges, including Bryant Chapel, Cove City; St. Augustus, Kinston; St. Julia, Jacksonville; St. Peters and Clinton Chapel, both in New Bern. More than fifteen preachers began their careers under his guidance; most are now pastoring in the North Carolina Conference.
Reverend Ellis was recognized for his years work in the ministry by being granted the degree, Doctorate of Divinity by Livingstone College, Salisbury, NC in 1989. In 1993, Reverend Ellis retired from being Presiding Elder of the New Bern District after sixteen years of service to the district and the church.
Reverend Ellis loved the New Bern District with all of his heart. As Presiding Elder he led by the motto, "One for All and All for One." He will be remembered by all who knew him for his desire to serve his community, his compassion to all in need, and as preacher of the gospel of Jesus Christ.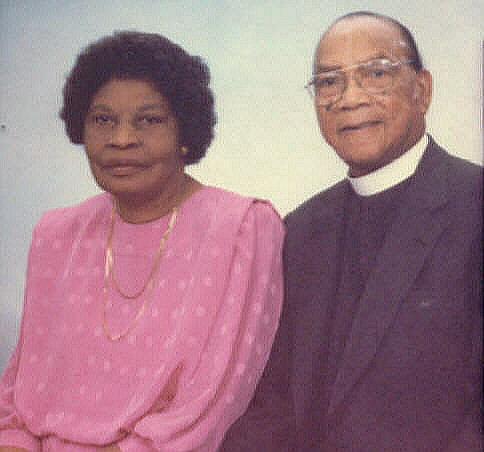 He leaves to rejoice in his memory and to sorrow in his passing, his loving and devoted wife Alma Fisher Ellis of the home; four sons, Dennis W. Ellis of Durham, NC, John W. Ellis, NC U.S. Peacekeeping Force, Camp Dobol, Bosnia; Atiba R. Ellis of Winston Salem, NC, Ossie Rooselvelt Ellis, Jr., of St. Louis, MO; two daughters, Betty E. Hyman of Havelock, NC, Claudia Rainey of St. Louis, MO; eight grandchildren, three great-grandchildren, four great-greatgrandchildren, and a host of other relatives and friends.
Return To Piney Grove Home Page